About XPRES
XPRES focuses on the future of production research, nationally as well as internationally, by conducting novel and fundamental research in production engineering. Through collaboration with peers we initiate challenge-driven efforts to increase sustainability in manufacturing in terms of economy, human health, and environment protection.
Vision
To place XPRES on the frontier of production research internationally with excellence in new knowledge creation
Mission
To develop and sustain the excellence in production research through discovery research, training of highly-qualified people, and adding values to Swedish industry
Based on the vision and mission statements, the XPRES strategy is to invest on people (XPRES Faculty, XPRES Fellows, and XPRES Postdocs) to conduct novel and fundamental research in production engineering through mutual collaboration and collaboration with peers.
Diversity statement
We are committed to promoting diversity and inclusion of all within XPRES community. We believe that diverse perspectives and talents are essential within production research. XPRES remains dedicated to building a welcoming and supportive environment for everyone in production research and training of highly-qualified people. We will continue to strive to uphold this promise in our activities and will consistently explore new ways to demonstrate our commitment.
Centre activities
XPRES activities are aligned with th four core research areas to unlock the potentials in science and people for new knowledge creation, leading towards sustainable and resilient factories for value generation.
XPRES aims to develop and sustain its excellence in production research through:
fundamental research that generates new knowledge,
training of highly-qualified people, e.g. PhD students, postdoctoral fellows and researchers participating in XPRES activities, and
adding value to Swedish industry and society through sustainability approaches, such as circular manufacturing, energy-efficient use of machines and robots, as well as safe and ergonomic working environment for operators.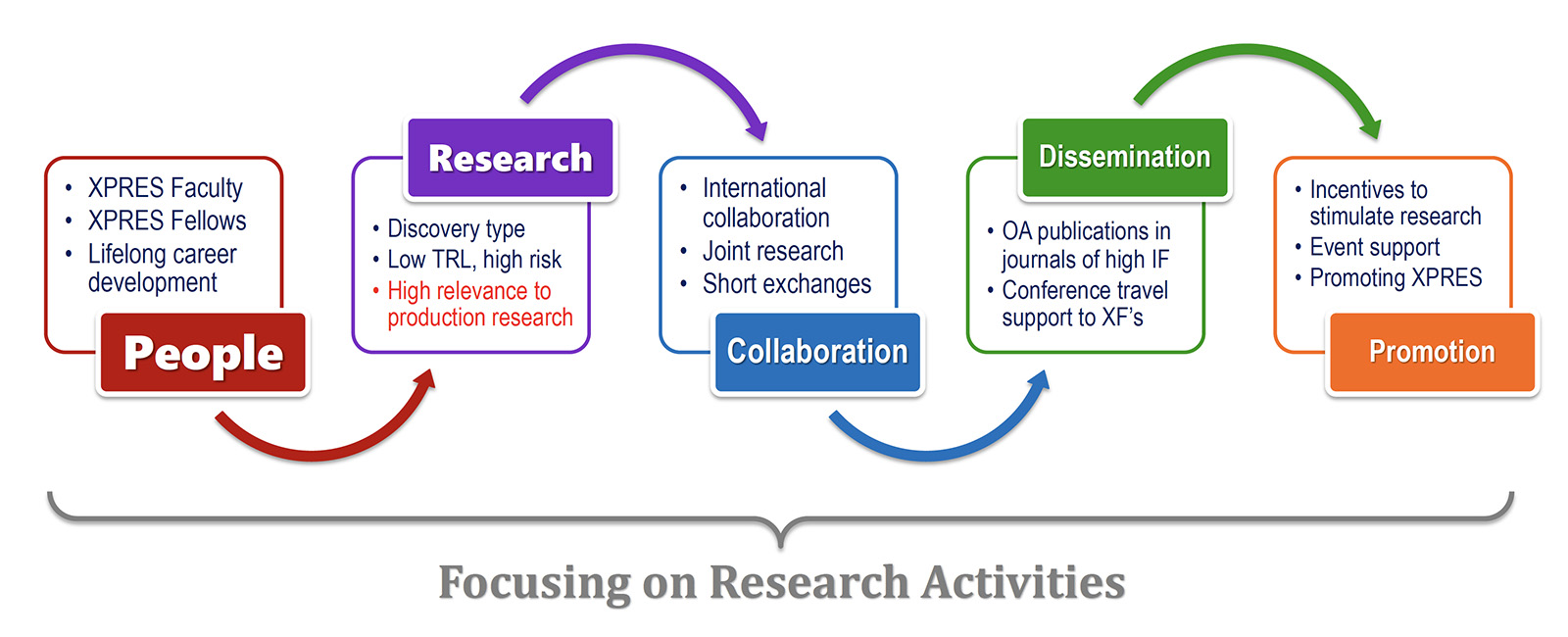 To create resilience in industry and contribute to a more sustainable society, production is approached from both an external societal perspective and a manufacturing process aspect. In addition to specific production processes and systems, XPRES investigates the relations between product design and production, including new methods, materials, topologies, visualisation, and socio-economic factors such as human centricity, etc. The research requires a cross-disciplinary approach, and the centre connects with researchers in the production area from all schools at KTH and from partners.
Organisation